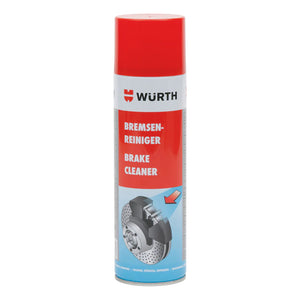 WURTH Brake Cleaner (Karting) 500ml
The ultimate professional Karting Brake Cleaner used by the ANGRi Racing Academy. It costs a little more, but there is nothing quite like this incredible product from WURTH for prepping, cleaning and protecting our karts and engines. The quality of brake cleaner is vital in engine prep, and the Wurth Brake Cleaner is importantly free of all water and moisture.
For cleaning and degreasing during maintenance and repair work
Fast flash-off behaviour and excellent cleaning performance
Fast and effective removal of soot, grease, brake dust and oily residues
Residue-free cleaning
Acetone-free
Good material compatibility with paints, plastics, seals and rubber
AOX-free and silicone-free
Notice 
Do not spray on hot parts. Not suitable for surface cleaning of adhesive areas. Prior to application, the compatibility of rubber or plastic parts and painted surfaces should be checked on an area that is not visible.
(Collection from the ANGRi Racing Academy at Killarney Kart Circuit or delivery nationwide)