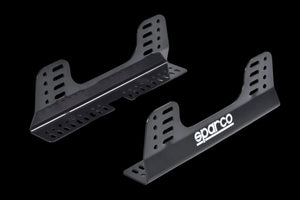 Sparco SIDE MOUNTS for Competition Racing Seat 
Sparco side mounts are used to mount competition seats.
Side mounts have mutliple side holes that provide a customizable mounting position. Available in black.
TECHNOLOGY
Powder coated steel in black
Weight - 5lbs per set
Please call us if we don't have your desired seat or seat accessories in stock, the stock shown on the website is only what is instantly available on our shelf at ANGRi HQ in Cape Town ready for you to wear or for us to immediately ship Nationwide. Plenty more stock is always in our warehouses and often on a plane on its way to SA from Italy.
Get your Sparco gear delivered to your door or pick up from ANGRi Racing HQ (and try on). We can also your gear dropped down to Killarney race track for you if you wish. For everything we stock, visit www.ANGRiRacing.com (SHOP).