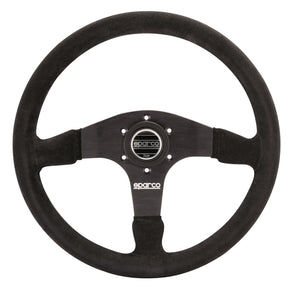 Sparco R375 STEERING WHEEL (Black) 
Sparco steering wheels are designed to improve grip and comfort for driving precision. Available in different diameters, depths, and materials which will satisfy every driving situation from street to track.
TECHNOLOGY
Diameter - 350mm
Dish (depth front to back) - 36mm
Cover Material - Suede
Please call us if we don't have your desired wheel or wheel accessories in stock, the stock shown on the website is only what is instantly available on our shelf at ANGRi HQ in Cape Town ready for you to wear or for us to immediately ship Nationwide. Plenty more stock is always in our warehouses and often on a plane on its way to SA from Italy.
Get your Sparco gear delivered to your door or pick up from ANGRi Racing HQ (and try on). We can also your gear dropped down to Killarney race track for you if you wish. For everything we stock, visit www.ANGRiRacing.com (SHOP).