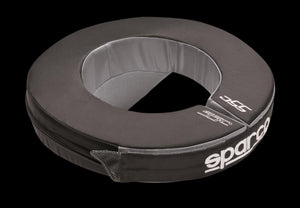 Sparco NECK SUPPORT Collar - (Baby) 
GREY / BLACK
Sparco's anatomical kart collars feature state-of-the-art designs and technology. These anatomically designed 360-degree collars offer safety and comfort at a reasonable price. Extensive testing by a panel of specialists showed how effective the collars can be at supporting the neck of young karters during crash tests.
Their variable density padding provides firmer support where the helmet is supported and softer support under the driver's chin. A unique rear "spoiler" reduces the weight of the helmet on the back. This collar is for use with younger drivers. 
Please call us if we don't have your size in stock, the stock shown on the website is only what is instantly available on our shelf at ANGRi HQ in Cape Town ready for you to wear or for us to immediately ship Nationwide. Plenty more stock is always in our warehouses and often on a plane on its way to SA from Italy.
Get your Sparco gear delivered to your door or pick up from ANGRi Racing HQ (and try on). We can also your gear dropped down to Killarney race track for you if you wish.