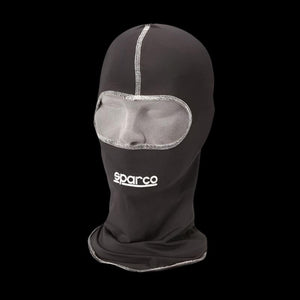 Sparco Karting Balaclava
ONE SIZE

The Sparco Karting Balaclava is a soft, breathable and very comfortable garment to wear under your helmet.
It is ideal for karting or for track days when there is no requirement for a flame-retardant balaclava. The balaclava has a range of features enabling quick drying through fast evaporation on hot karting days.
Knit: 4-ways stretch
Outside: 77% polyester
23% polypropylene microfiber in contact with skin.
Polypropylene: the lowest specific weight among the textile fibres 
Dry fast: polypropylene is hydrophobic and keeps the moisture away from the skin, the special structure of the knit allows fast evaporation.
Anti-bacterial permanent treatment: inhibits the growth of odor-causing bacteria
(Easy care: do not iron!)
Please call us if we don't have your size in stock, the stock shown on the website is only what is instantly available on our shelf at ANGRi HQ in Cape Town ready for you to wear or for us to immediately ship Nationwide. Plenty more stock is always in our warehouses and often on a plane on its way to SA from Italy.
Get your Sparco gear delivered to your door or pick up from ANGRi Racing HQ (and try on). We can also your gear dropped down to Killarney race track for you if you wish.