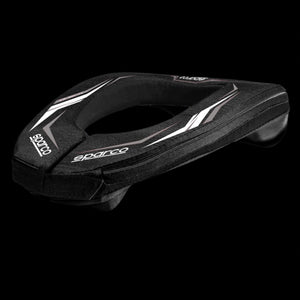 Sparco K-RING NECK SUPPORT Collar - YOUTH
GREY / BLACK
The Sparco K-ring is an anatomically designed 360-degree collar which offers safety and comfort. Extensive testing by a panel of specialists showed how effective this collar can be at supporting the neck during crash tests.
The Sparco K-ring is manufactured using high density foam which provides firmer support in the event of an impact. Sternum and upper back supports allow for better energy absorption across the shoulders to minimize the risk of injury.
A unique magnetic closure system with hidden magnets and a Velcro strap provides a secure closure that allows the collar to be easily fitted or removed.
Available in 2 sizes: Adult and youth. (This is a YOUTH size)

TECHNOLOGY
Anatomic 360-degree collar
High Density Impact Foam
Magnetic Closure System w/ Velcro Strap
Available in Youth or Standard sizes
Please call us if we don't have your size in stock, the stock shown on the website is only what is instantly available on our shelf at ANGRi HQ in Cape Town ready for you to wear or for us to immediately ship Nationwide. Plenty more stock is always in our warehouses and often on a plane on its way to SA from Italy.
Get your Sparco gear delivered to your door or pick up from ANGRi Racing HQ (and try on). We can also your gear dropped down to Killarney race track for you if you wish.