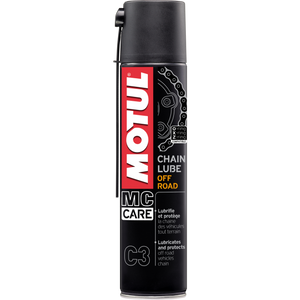 MOTUL C3 CHAIN Lubricant / Spray (Karting) 400ml
The ultimate professional Karting Chain Lube used by the ANGRi Racing Academy.
Specially recommended for Karting. Applicable for all types of chains: Standard and with O-ring, X-ring and Z-ring.... and this is the BIIIIIGGGGG 400ml can... for the price of a small one. Our pleasure ;)
This stuff is not gunky or leaves oily residue sprayed everywhere, this gives your kart chain the perfect lubricaction it needs with very little fly-off. We swear by it and get very upset if we ever run out!

(Collection from the ANGRi Racing Academy at Killarney Kart Circuit, ANGRi HQ or delivery nationwide)