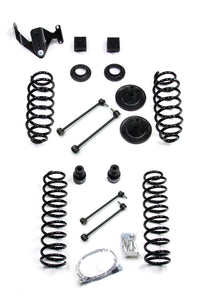 TERAFLEX 3" COIL LIFT SYSTEM - KIT BOX (No Shocks)
The TeraFlex JK 3" Suspension Lift Kit delivers everything that you need to conquer the most extreme trails and conditions.
Drivability and performance are the most important factors that are engineered and built into every TeraFlex lift kit. Properly developed suspension geometry, roll center, and load tuning ensure that all factory stability controls remain functional and within the parameters that Jeep originally engineered into the vehicle. TeraFlex kits drive straight and will crawl anything, getting you there and back!
This system includes
3" lift coil springs, front swaybar disconnects, rear swaybar links, rear trackbar bracket, bumpstops, brake line extenders and all necessary hardware.
This kit will allow you to run up to a 37" tire (aftermarket wheels with 4.5" backspacing or less are required).
Fits all right hand drive JK / JKU Wrangler models (Kit Specific) including Rubicon and Unlimited.
You will need longer shocks with this kit and we recommend the 3-4" Teraflex 9550 Shocks or the 3" Falcon 2.1 series.
Note: Driveshaft modifications are highly recommended with this suspension system. (ANGRi use the Rzeppa High angle CV Joint on installation of the 3" Kit. Going 3" and above without this will result in driveshaft failure eventually).
2012+ JKs require exhaust spacers (#2610000) or other exhaust modification for proper driveshaft clearance with the exhaust.
OTHER 'MUSTS' *** When ANGRiJeep fit this 3" kit, we insist on adding the Rzeppa high angle CV joint, Exhaust Spacer Kit, Lower front adjustable arms (and Upper Rears if an offroad vehicle or 37" tyres), Forged adjustable Monster Track Bar and an upgraded Steering Stabiliser. (Please see our 'Fully Fitted' ANGRi version of the Teraflex 3" kit that is properly specced for a lift of this nature)