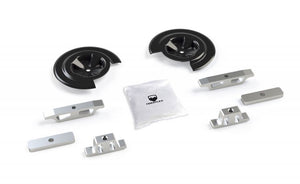 JT GLADIATOR: Teraflex Rear Upper / Lower Spring Retainer Kit (4954000)
The TeraFlex JT (Gladiator) upper and lower spring retainer kit is essential for the more ambitious Gladiator driver / rock crawler and dune jumper!
Coil Spring Retainers are essential during rapid suspension cycling to prevent the spring from unloading causing rotation or shifting. Precision cut and zinc plated for durability.
If you are going to use your Gladiator to the max..... make sure your springs stay where they are supposed to!
We spec this kit as standard on all 'Installed at ANGRiJeep' Lift Packages , however they are not included in 'Kit Only' packages. Make sure you add it to your build list!