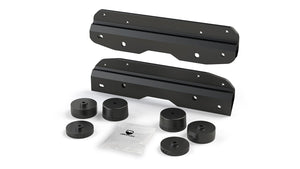 JL Spare Tyre Relocation Bracket Kit (to fit up to 37" Tyre)
The TeraFlex JL: Spare Tire Relocation Bracket allows you to retain the factory spare tire mounting bracket with minimal modifications when stepping up to larger tires. This slim-mount bracket raises the spare tire up 2" and out 1.35" – enough to fit a 37" tire perfectly into the rear bumper tire well.
• Moves spare tire carrier up 2" and out 1.35" – fit up to a 37" tire in the rear bumper tire well
• Bracket spacers allow for various wheel offsets
• Provide up to 2.85" of adjustment
• Only relocation bracket kit that includes adjustable tire isolators
• Bracket constructed from extruded 6061-T6 aluminum w/ an architectural black anodized finish
Fits:
• JL Wrangler (2-door)
• JL Wrangler Unlimited (4-door) Specs:
• Max Tire Diameter: 37"