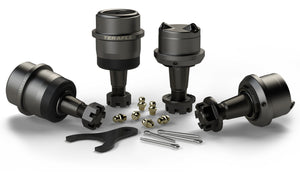 JK / JKU Teraflex Heavy Duty Ball Joints Kit
(Available as a Retail Boxed Kit or we can fit if required)
If your Wrangler's mileage is over 50,000kms or you give it's suspension a pounding at weekends.....  it's always good to have your balljoints checked for play. It is one of the culprits for death wobble but can cause other stability issues as they start to wear. Replace them with these and your Wrangler will never have to worry again!
TeraFlex HD Ball Joints are engineered to handle the increased load caused by oversized tires and offset wheels.
FITS:
• JK Wrangler (2-door) w/ Dana 30 or 44 axle
• JKU Wrangler Unlimited (4-door) w/ Dana 30 or 44 axle
INCLUDES:
• Upper ball joints w/out knurl - pair
• Lower ball joints w/out knurl - pair
UPPER BALL JOINT FEATURES
• Extremely hard sintered wear bushings to handle extreme side load demands w/out failure
• Magnesium Phosphate coating to inhibit corrosion throughout
• Heat treated 4140 chromoly ball/stud & 1045 carbon steel housing
• Factory-style serrated flange nut & grease fitting
LOWER BALL JOINT FEATURES
• Hard alloy tool steel slotted wear plate for ball/stud to socket wear protection
• Wear plate features grease channels for increased flow through entire joint ensuring longevity & predictable operation
• Magnesium Phosphate coating to inhibit corrosion & friction throughout
• Heat treated 4140 chromoly ball/stud
• Huge 30mm (1.18") ball
• Factory style serrated flanged castle nut
• Ball joint pre-load adjustability provides the end user w/ near effortless wear adjustment (kit includes Preload Adjustment Tool)
• Low-profile single lip dust seal eliminates torn conventional dust boot concerns
• Adjustable ball stud retaining ring for accurate initial & future preload adjustments that can be done w/out any axle disassembly
• Adjustable preload can be performed w/ simple hand tools
• Adjustable end cap w/ two zerk fittings allow greasing access from either side w/out axle shaft removal even w/ larger RCV shafts
• Dual helical grease grooves machined in the retaining ring allow spent grease to exit through the low-profile seal
• Low-profile seal prevents contaminants, while allowing spent grease to evacuate from the ball joint