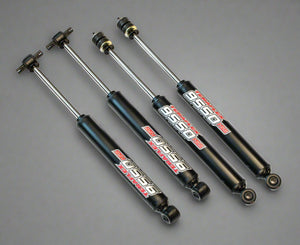 Teraflex 9550 shocks for 2.5" Lift (All 4) for Wrangler JK/JKU
9550 VSS SHOCKS JK/JKU
Designed specifically for either the JK/JKU Wrangler, TeraFlex 9550 VSS (Vehicle Specific Shocks) Twin-Tube Shocks are engineered, valved, and tuned for extreme off-road performance while retaining a smooth highway ride. Additionally, a proprietary inhouse velocity valve is tuned to react in sync with TeraFlex suspension systems and lift kits making them the perfect upgrade for your lifted Jeep.
The twin-tube design, oversized external tube with e-dipped finish, triple-chrome plated rod with oil block and seal, internal travel stop limiter, premium quality rubber bushings, and Jeep specific mounting contributes to the 9550 VSS Twin-Tube Shock's performance, durability, and comfort.