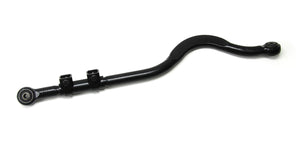 Teraflex Front Monster Forged Adjustable Track Bar Kit RHD JK/JKU
The TeraFlex JK front adjustable track bar is 230% stronger than the factory track bar and uses OE style rubber bushings with an additional rate plate for superior handling and responsive control. The front axle experiences tremendous amounts of lateral force during turning maneuvers, and is increased exponentially when turning in restrictive off road situations.
The TeraFlex forged track bar is the strongest on the market, and is specifically engineered and designed to withstand these abusive side loads. This adjustable track bar allows lateral adjustment of the axle for proper axle alignment. No bracketry changes are necessary, and it is a complete bolt on component. The track bar is designed to cycle through the full movement of suspension travel without interfering with other components.
Fits all right hand drive JK Wrangler models with 0"-6"+ of lift.
Highly recommended on all lifts of 3" and more