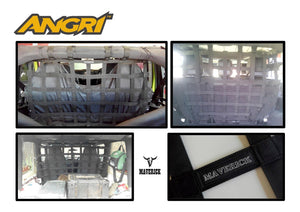 Maverick Cargo Divider Net - for Wrangler 2dr/4dr JK/JKU/JL and TJ
The very best quality, proudly South African made 'MAVERICK' Cargo Divider for Wrangler JK 2DR, JKU 4DR, JL and TJ (1996-2006)
The Divider net provides strong and secure division between the luggage are and the cabin. Ideal to retain the 'look' whilst creating secure for dogs or large and moveable luggage.
Exceptional  quality- Locally made.
The Cargo-Divider offers enhanced safety for vehicle occupants by retaining unsecured cargo in the cargo bay during hard breaking or extreme off-road driving conditions.
The Cargo Divider firmly secures over the Roll-Bar bulkhead and Manufacturer fitted attachment points in the cargo-bay.
All Cargo Dividers are manufactured from the highest quality double binded webbing and double stitched for added strength and durability.
Available for Wrangler TJ, JL, JK 2dr door and Wrangler JK 4dr models.